SO YOU WANT TO CONFIDENTLY FINISH AN IRONMAN TRIATHLON FEELING STRONG & READY TO BOOK YOUR NEXT RACE?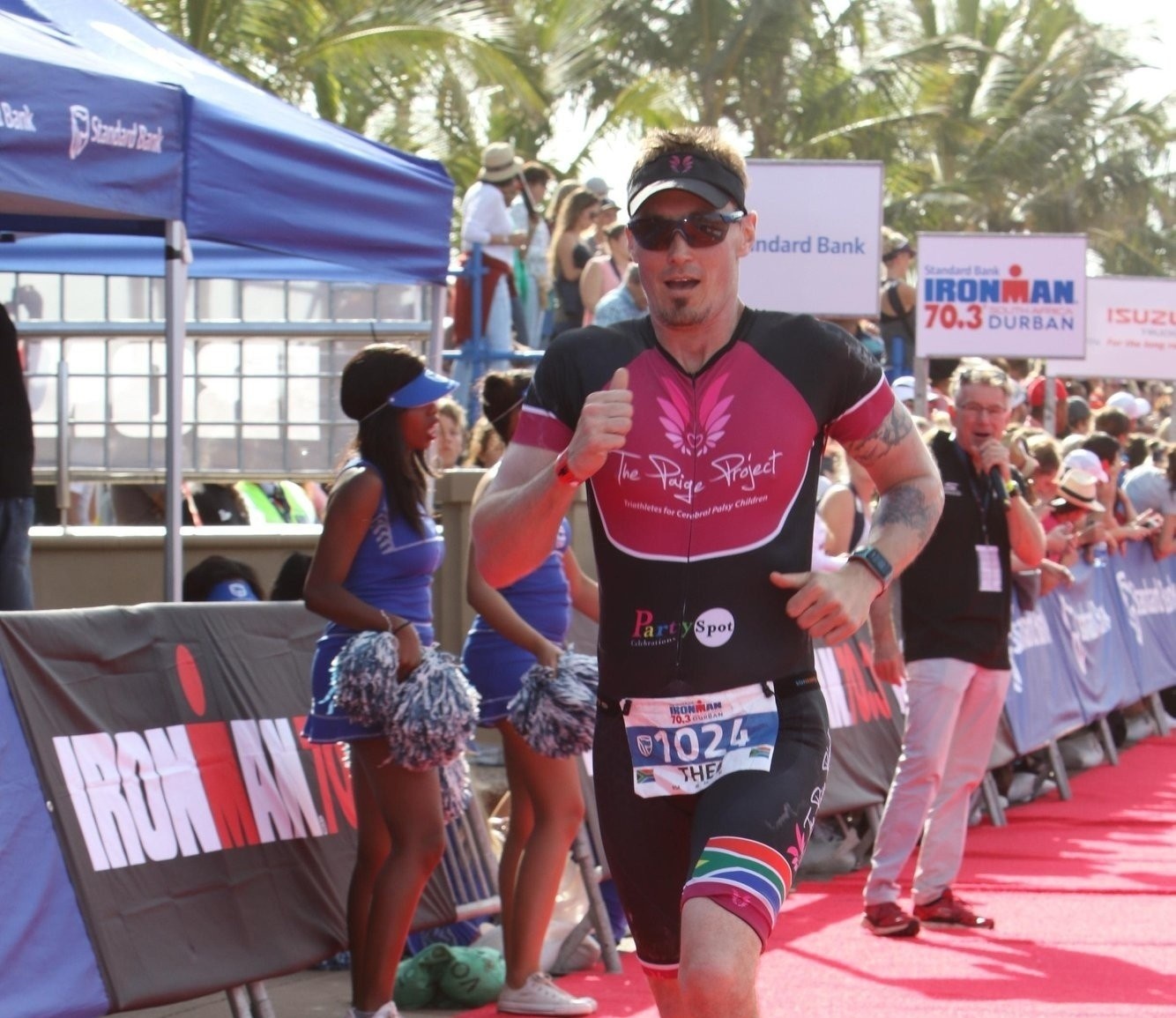 BUT YOU ARE WORRIED THAT...
YOU
DON'T
HAVE
ENOUGH
TIME
THE RIGHT STRENGTH AND
CONDITIONING WILL HELP YOU
FEEL STRONG AT
ANY LEVEL
With
STAY FIT NOT STILL

You'll Learn:
How to break through any frustrating strength building plateau: Even if you've been stuck at the same level for years.

​The single most important thing to include in your training.

The #1 worst mistake you can make when training and what you can do to fix it.

How to confidently finish an Ironman triathlon feeling strong and ready to book your next race!
I BELIEVE THAT THERE ARE 3 THINGS TO FOCUS ON:
If you're a 1st time triathlete, or someone who has already dipped your toes in, or someone who is well seasoned but needs a push in the right direction to get strength based results that you have not seen before...
STRENGTH & CONDITIONING
Strength & Conditioning is #1 because this is what fuels the confidence and belief that you REALLY can finish an Ironman triathlon.
MINDSET
Mindset is #2 because this is what frees us from the stress, pain and challenges we face in daily life. It allows us to decide why we REALLY want to get in shape.
ENDURANCE PERFORMANCE
Endurance Performance is #3 because this is how you will truly survive the next level in triathlon training no matter what the race throws at you.
WHAT'S IN THE PROGRAM
This 16 week program is specifically designed around strength and conditioning which is an easy to follow schedule that can offer you the benefit of enjoying and gaining strength and conditioning by leveraging key exercises that the world of endurance sport uses. These movements are scientifically designed and tested to compliment muscle movement needed for swim/bike/run mechanics.
STRENGTH & CONDITIONING PROGRAM INCLUDING
✅  16 Week Program
➡️  6 Key Phases Of Strength & Conditioning
➡️  31 Instruction Videos
➡️  Full Program Calendar
➡️  16 Weekly Workout Planners
➡️  Free Mobile App (IOS/ANDROID)
Strength & Conditioning Program Value = $47.00
GET STARTED NOW
YOU DO NOT HAVE TO BE A TRIATHLETE TO BENEFIT FROM THESE EXERCISES
and....
YOU DO NOT HAVE TO HAVE ANY EXPERIENCE OR KNOWLEDGE IN ANY ENDURANCE RELATED SPORT TO BENEFIT FROM THIS TRAINING
MY PERSONAL
GUARANTEE TO YOU...
My guarantee to you is that these 6 Phases of Strength and Conditioning, when implemented, will make a difference to your Ironman journey. I know when you take action, you'll get results.
These are the same principles I have followed day in and day out for the last 6 years and they have enabled me to continue to excel and optimise my performance. They give me the edge.
Check out my recent challenge where I did 2

FULL

Ironman Distance Triathlons Back-2-Back in 2

CONSECUTIVE DAYS

. This challenge would not have been possible without using the 6 Key Phases of Strength and Conditioning.
Included in this Strength & Conditioning program are
ALL SIX

of the following Endurance Training Programs fully integrated into Training Peaks:

Use these programs one by one to build yourself up to multi-sport capabilities. Overlap each one with Strength & Conditioning to catapult your progress into the world of Triathlon.
TrainingPeaks Bonus Value = $374.00
BONUS VALUES ARE

REAL

.
NOTHING IS MADE UP!
FINAL RECAP
WHAT YOU GET:
STRENGTH & CONDITIONING PROGRAM INCLUDING
✅  16 Week Program ($47.00)
➡️  6 Key Phases Of Strength & Conditioning
➡️  31 Instruction Videos
➡️  Full Program Calendar
➡️  16 Weekly Workout Planners
➡️  Free Mobile App (IOS/ANDROID)
BONUS SECTION INCLUDING
✅  6 Endurance Training Programs fully integrated into Training Peaks ($374.00)
➡️  Half Marathon Running Plan
➡️  Full Marathon Running Plan 
➡️  2Km Open-Water Swim Plan 
➡️  90Km Road Cycling Plan 
➡️  Half Ironman Triathlon Plan 
➡️  Full Ironman Triathlon Plan 
➡️  Training Peaks Basic Plan
Total Bundle Value = $421.00
Here's what some of my athletes are saying about the program
Grant Joseph
Theo is an

incredible coach, from absolute novices to serious contenders. He worked with me every step of the way, and not only understand the physical side of training, but also the mental and emotional side. I had never previously ridden a road bike or even been a swimmer, but a road runner for 5 years, and he worked with me to complete my first 70.3 in a solid time. I would highly recommend this coach for anyone looking to get expert holistic coaching. Definitely a 5 star coach.
David McCallum
Theo has been coaching me for the
past 18 months - during this time he
has been fantastic in terms of goal
setting (realistic and actionable) and
creating training plans that have
taken my varying work schedule and
travel into account. He is certainly
patient, but has the ability to raise
valid questions that get you thinking
about agreed goals - this approach
has got me out of bed on many a cold,
dark morning! Theo is an excellent
communicator and uses a range of
media to stay in contact - even
though I am based overseas, Theo
makes the effort to ensure regular
feedback sessions with meaningful
data and discussions. Thanks for the
time and energy you put in Theo
First class !!
Gareth Jones
Theo has been very professional in
his approach to training. His
engagement levels are high and
training tailored. In times of travel,
workouts were amended to suit the
environments I was exposed to in
Africa, often very limited in resources.
He was available 24/7 and if not
available at time of unplanned
contact, would always get back to me
soon thereafter. His attention to
detail, patience and positivity kept me
engaged with enough pressure to
ensure discipline of execution.
Although I am far from a professional
athlete, I believe that Theo is capable
to assist any level of individual with a
holistic and balanced method to both
training and life. Thank you Theo and
wishing you much success going
forward.
Scott Richardson
When I reached out to Theo about the
possibility of him training me, I had
spent years without being active I had
one main goal and that was to get
myself of the couch and exercising.
Looking back at the initial meeting
roughly 12 months ago, I don't think I
could quite comprehend what
changes awaited me. Having come
from from barely being able to run a
5km race to completing two half
marathons with a further six half
marathons planned and my first full
marathon also on the cards. Theo's
Guidance, infectious enthusiasm,
unwavering patience, constant
communication and feedback have all
been integral in helping me to
become a more active and reaching
goals I never thought possible. I
would highly recommend Theo as
coach !!!
James Lloyd
Having started my 1st 70.3 training
with a major obstacle in the 1st
week- I broke my arm falling off my
bike- a lot of coaches would have said
rather postpone your race. But Theo
did not do that. Theo listened to me, I
was set on my race date. Theo got me
to achieve my race distance on the
race date! Theo is positive, focused,
motivational and inspirational, and
had loads of good advice not on only
on triathlons but on living life!
Owen Sheftz
I am a swimmer so Ironman was only
a dream but having the right Coach in
your corner makes the world of
difference. He took me from a
Swimmer to completing my first
Ironman in 6 weeks. What they don't
tell you is the behind the scenes
planning and organizing required and
all the admin and preparation needed
to complete and Ironman and having
Theo made it seamless and fun. If you
looking for the right man for the job
Theo Bierman is your Man. Thank you
Theo you are a legend! !!!
© 2021 Coach TRC. All Rights Reserved.